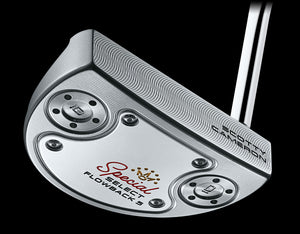 With its sweeping curves reminiscent of popular classics like the GOLO 5, the new Special Select Flowback 5 blends the familiar with the modern, as every design aspect from the topline to the sole of this mid-mallet performer has been updated. Designed with a mid-bend shaft configuration and a full shaft of offset, the Flowback 5 includes stainless steel weights and an integrated 6061 aluminum sole plate for optimal weight distribution with a near-face balanced setup to limit toe flow for a straighter, more mechanical, stroke. Scotty's signature back cavity three red dot pattern has a new look for the Special Select line with a recessed milled circular channel, polished and then outfit with hand-applied red translucent paint creating a striking new "cherry rings" feature.
SPECIFICATIONS

LOFT - 

3.5º

LIE - 

70º

LENGTH - 

33", 34", 35"

HEAD MATERIAL - 

303 stainless steel

OFFSET - 

Full Shaft

GRIP - 

Pistolini Plus

WEIGHTS

2 x 20 grams (33")
2 x 15 grams (34")
2 x 10 grams (35")

TOE FLOW  

Mid-Low
OPTIONS

CUSTOM RH LENGTHS  

½" lengths available

CUSTOM LOFT  

-1º - +1º

CUSTOM LIE 

-2º - +2º
MID-BEND NECK CONFIGURATION
Offering a full shaft of offset, the stepless steel shaft has been engineered to minimize face rotation in the putting stroke by incorporating a single "mid" bend aimed directly down the target line.
PERFORMANCE BALANCED WEIGHTING
Evolving the use of interchangeable, customizable sole weights to tune the setup and feel of putters at all lengths by directing more weight to the heel and toe, the Special Select Flowback 5 is designed with integrated stainless steel sole weights that enlarge the sweet spot and enhance stability, balance and performance.
SOLID MILLED CONSTRUCTION
With a focus on creating the finest milled putters possible, every Scotty Cameron Special Select model is milled from a solid block of 303 stainless steel in the United States, given a mid-milled face pattern and hand finished for superior feel and pure performance.