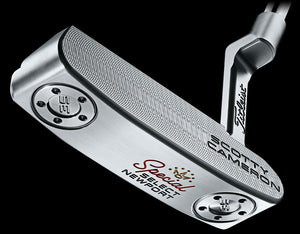 Evolving the curvy, compact setup of this classic blade design, the Special Select Newport is crafted from solid milled 303 stainless steel without an insert and with new performance balanced tungsten sole weighting for a larger sweet spot and increased stability. The revamped plumbing neck allows for better alignment and setup with freer visual access to the flatter, narrower topline, while a new, cascading concave second tier knocks down reflection and provides a "melt-into-the-ground" appearance at address. The Select line's iconic three red dot theme continues with elegant new Tour-inspired "cherry rings" reminiscent of legendary tournament-winning models.
SPECIFICATIONS

LOFT - 

3.5º

LIE - 

70º

LENGTH - 

33", 34", 35"

HEAD MATERIAL - 

303 stainless steel

OFFSET - 

Full Shaft

GRIP - 

Pistolini Plus

WEIGHTS

2 x 40 grams (33")
2 x 35 grams (34")
2 x 30 grams (35")

TOE FLOW - 

Mid
OPTIONS

CUSTOM RH LENGTHS 

½" lengths available

CUSTOM LOFT 

-1º - +1º

CUSTOM LIE 

-2º - +2º
REFINED PLUMBING NECK
Offering a full shaft of offset, every curve and contour of the familiar plumbing neck has been re-engineered to enhance performance. The refined neck has been positioned slightly back from the leading edge to improve visibility and ease alignment for increased confidence at address.
PERFORMANCE BALANCED WEIGHTING
New performance balanced weighting keeps the Special Select line's sleek head shapes within modern weight specifications for proper weight-to-length setup by using heavier tungsten sole weights to increase stability and produce a larger sweet spot for optimal balance and weight distribution in the Special Select Newport, Newport 2 and Newport 2.5 blade models.
SOLID MILLED CONSTRUCTION
With a focus on creating the finest milled putters possible, every Scotty Cameron Special Select model is milled from a solid block of 303 stainless steel in the United States, given a mid-milled face pattern and hand finished for superior feel and pure performance