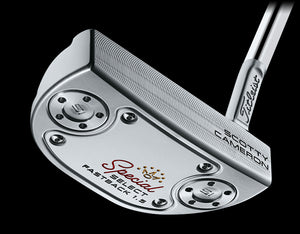 As a shape extensively tested on the worldwide professional golf tours, the Special Select Fastback 1.5 joins the line with a refined small slant neck for clean setup and a solid milled putter head for amazing feel. This rounded mid-mallet offers higher MOI, as more weight is designed into the heel and toe using customizable stainless steel sole weights. Additionally, this aesthetically pleasing head shape was achieved by integrating a precision-crafted 6061 aluminum sole plate, which allows for optimal weight distribution. A pure modern performer, the Special Select Fastback 1.5 has a slightly more compact face height than its predecessors, a precision mid-milled face and incorporates the new Tour-inspired "cherry rings" reminiscent of legendary tournament-winning models.
SPECIFICATIONS

LOFT - 

3.5º

LIE - 

70º

LENGTH - 

33", 34", 35"

HEAD MATERIAL - 

303 stainless steel

OFFSET - 

3/4 Shaft

GRIP - 

Pistolini Plus

WEIGHTS

2 x 20 grams (33")
2 x 15 grams (34")
2 x 10 grams (35")

TOE FLOW - 

Mid-High
OPTIONS

CUSTOM RH LENGTHS 

½" lengths available

CUSTOM LOFT 

-1º - +1º

CUSTOM LIE 

-2º - +2º
REFINED SMALL SLANT NECK
The re-shaped and re-engineered small slant neck lays back slightly and employs a seamless shaft-over setup for an uninterrupted view of the ball from address with nearly one shaft of offset in a configuration that encourages a bit of toe flow.
PERFORMANCE BALANCED WEIGHTING
Evolving the use of interchangeable, customizable sole weights to tune the setup and feel of putters at all lengths by directing more weight to the heel and toe, the Special Select Fastback 1.5 is designed with integrated stainless steel sole weights that enlarge the sweet spot and enhance stability, balance and performance.
SOLID MILLED CONSTRUCTION
With a focus on creating the finest milled putters possible, every Scotty Cameron Special Select model is milled from a solid block of 303 stainless steel in the United States, given a mid-milled face pattern and hand finished for superior feel and pure performance.